There are so many incredible ideas and things that we have seen throughout our years of wedding photography and we want to share some of the awesome things we have seen with you!  Hopefully it will help in getting your creative juices going and help in coming up with something that will be perfect for your big day or someone else's!  🙂  This is just the first of many to come, so stay tuned and check back often!
Our first "Wedding Details Breakdown" is from a recent destination wedding we photographed in Nebraska.  Check out the photo below of the centerpieces they used and then check out a breakdown of what this couple did to create this beautiful detail for their wedding…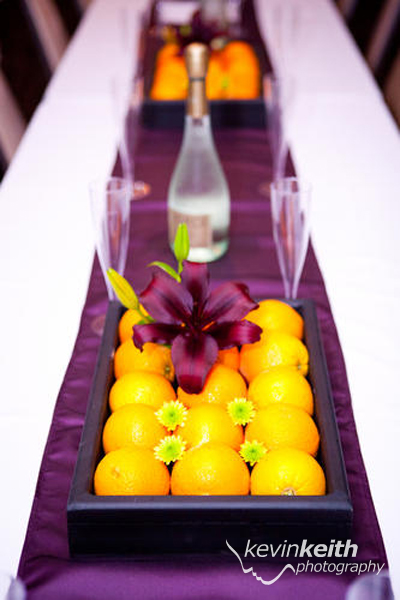 These centerpieces looked beautiful and elegant and matched the feel of their day perfectly!  When I asked where they had gotten their centerpieces, they told me that each one was created using a frame they had bought and painted and taken the glass out of, with oranges filling the space inside the frame, and tiny delicate orange flowers and one larger purple lily on top to tie it all together.  So simple but so stunning!  They had found an awesome deal on the frames, easily matched their wedding colors when they painted them, and bought the vibrant colors to life with oranges and flowers.  I must say, the textures and sizes of the flowers was the perfect finishing touch to bring all the elements and colors together!
If you have a wedding tip or detail you would like to share, please email it to us at info@kevinkeithphotography.com!  We are all about sharing the love and look forward to hearing from you!