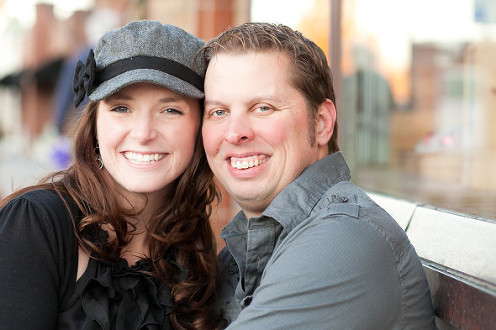 Hi, we are Kevin and Ashley, a husband and wife professional photography studio in Overland Park, Kansas. Kevin started the business in 2005 and Ashley came by his side in 2008 (we got married in 2010 – here is our wedding video).  We have been so blessed to capture so many moments for couples, families and businesses. Kevin went to Brooks Institute of Photography and honed his skills in lighting and photography.  He has photographed over a hundred weddings, portraits and commercial jobs.  He is great at making people feel at ease when working with them.  Ashley is a bubbly and fun personality that makes everyone smile.  She assists Kevin on most of his photo shoots and is the second shooter on weddings. With over 10 years of being together we have formed a perfect photography team that is capable of capturing the best photos for your family or business.
– Kevin and Ashley

A LITTLE BIT MORE ABOUT US:
Kevin likes golfing, football (Go K-State), traveling, and playing with his three daughters. He loves Jesus and going to church with his family.  You may even find him running the video camera for Sunday services.
Ashley loves being a mother and taking care of her family.  When she isn't taking care of the kids or enjoying family time you might find her watching cooking shows, listening to music (favorite artists Toby Mac and For King and Country), hanging out with friends, or playing Toy Blast.