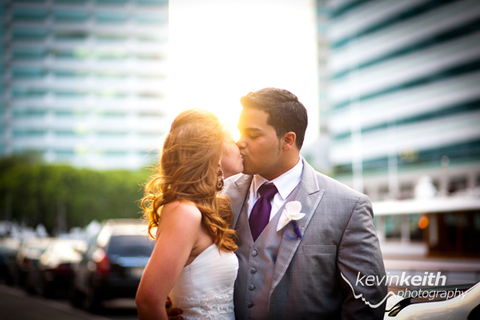 We always enjoy photographing destination weddings, and Sarah and Josh's was definitely one of our favorites! We had a wonderful time photographing their wedding in Hoboken, New Jersey!  Not only was it a beautiful wedding; they are also a beautiful couple inside and out!  The love they have for each other and their families is far beyond what words can describe!
Sarah's day began bright and early as she headed to the Tony and Guys Salon to get her hair and makeup done before their 'first look' at the Maxwell Place Park in Hoboken across the river from New York City.  The joy and anticipation of both Sarah and Josh was awesome and we got some beautiful shots of their loving wonder as they saw each other!
Their ceremony was a beautiful celebration of Christ being the center of their marriage as they braided three ropes together and washed each others' feet.  When it was finally time to kiss the bride, they shared their first kiss together.  Yes, that's right, Sarah and Josh saved that precious moment when they kissed each other for the first time for their wedding day!  Everyone was cheering with excitement for them when they shared that special moment and we have some great shots of Sarah and Josh celebrating afterwards.
After the ceremony, everyone celebrated at the Michael Anthony Restaurant and danced the night away!  From start to finish, it was an amazingly gorgeous wedding and we were blessed to get to capture it!
Congratulations Sarah and Josh!!!!!!
Click on the photo below to see their wedding slideshow…