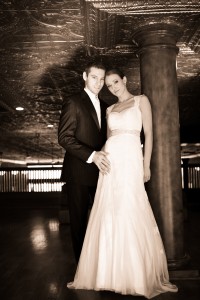 What better way to kick off a fresh, new year than to photograph a wedding on New Year's Day!  Though the weather was incredibly chilly, the day itself could not have been more beautiful!  The sun was shining, the streets were snow free, and everyone was excited that Casey and Vince's wedding day had arrived!
As soon as we stepped inside Evergreen Event Space in Paola, KS, we immediately saw why they had chosen this venue!  The gorgeous brick, cherry wood floors and balconies, and gold inlaid ceiling fit them perfectly!  Its romantically classic and elegant style was a perfect reflection of them!  When it was time for the "First Look", we headed outside to the town Pavilion.  Casey donned her coat for the walk across the street to see her groom.  Just before she walked up to have him turn to her, she slipped her coat off so Vince could see her head-to-toe in her gorgeous gown!  When they saw each other for the first time, even the cold outside couldn't take away from the awe-struck joy and love they shared in those moments!
One of the neatest things that really touched our hearts that day was to see the love they share with each other and how close all of them are as a family!  They are all truly genuine and kind people and their joy was overflowing as they celebrated together!
Alrighty, it's time to let the photos tell their story…  Enjoy the slideshow of this very special couple!  Congragulations Casey, Vince, and families!!